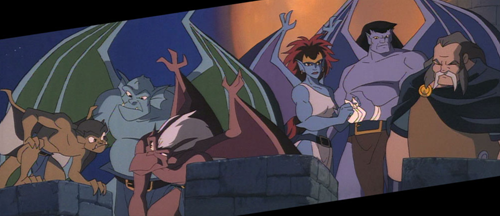 Image from
D. Taina's Gargoyles Imagery Resource
Gargoyles
, now,
Gargoyles
is interesting because, firstly, it doesn't create that particular emotional resonance that a lot of these works will have. Its plot, themes, and ideals don't "speak" to me on that individual level, but simply are the things that any decent person or series would believe in. However,
Gargoyles
is just so damn
good
that it ceases to matter.
In
Gargoyles
, everything just comes together to form a beautiful picture. Not flawless, of course, but close enough that it can inspire poetic waxing if I'm in the right mood. The characters, the stories, the voice acting, the music, the animation, the design, the world-building…it's just gorgeous.
Okay, so, in the past, humans knew of, and had dealings with, a species of winged humanoids called gargoyles, who, along with gargoyle beasts, turn to stone during the day. The last survivors of a decimated Scottish clan were frozen in stone by a spell that would last until their home castle "Rose above the clouds". "Fortunately" for them, a rich man named David Xanatos did exactly that, took apart and rebuilt the thing atop his building in the New York of 1994, and the gargoyles awaken to the modern day and a new storyline.
Gargoyles
blends science fiction, fantasy, mythology, and history, with a strong vein of Shakespeare running throughout. Unlike many cartoons, these unrelated genre elements blend seamlessly, and make the series feel like it's strong enough to tackle a wide variety of motifs.
The cast of heroes begin as a set of clichés that anyone who watches American action cartoons would feel familiar with: The Leader, the Old Guy, the Young Guy, the Fat Guy, the Little Guy, the Pet, and even the obligatory human female. However, each member of the Manhattan Clan grows and changes in this new world, becoming well-rounded characters.
Goliath and Elisa's relationship is particularly noteworthy. While there's little to say with the Beast and Beauty trope anymore (and it's never as progressive as people think it is),
Gargoyles
makes that relationship work. It takes a realistic but uncommonly-depicted amount of time to for their bond to develop, and Goliath and Elisa must confront what they could never give each other. Their differences, in short, are given weight, which makes for more effective storytelling than the strangely effortless fantasy-xenophilia we see elsewhere.
(
Read more...
Collapse
)