I had a happy Leprechaun Day.
As I keep mentioning, Exedore is my most favourite
Robotech
character, having a multifaceted appeal that probably doesn't make much sense to people who aren't me. But regardless, he had an action figure. I had to get one. But there was no place on the bloody interwebs where I could find one for sale. But through careful watching of EBay, I managed to score.
:D
From the few, but good pictures available online, I knew from the beginning that I was getting a very poor likeness, even by the standards of 1980s action figures. Looking at him in the plastic, though, I'd say the final work, while severely lacking even in comparison to the other figures, is a mix of good and bad.
Here we have the animated Exedore, in all his corpselike glory: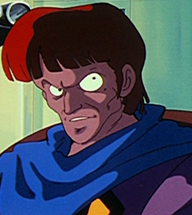 And here's the figure:
The first of the bad is that his skin is the wrong damn colour. Instead of a liverly shade, it's a pale lavender. Seriously, how do you get that wrong? Furthermore, where's his poncho thingie?
There's also minor niggling colour errors that are more to be expected: His hair is orange instead of red, and the secondary colour on his Zentraedi emblem is orange, too, instead of yellow. His shoes are also black instead of purple, and he doesn't have blue cuffs. And the bits on his kneepads should be teal....also a random belt on his uniform and a few misplaced stripes. I am truly leading a life well spent.
The good is that the figure is actually a decent sculpt. The hair, the face, and the uniform aren't entirely spot-on, but a fair likeness. They're even going a bit for Exedore's usual cocked-eyebrow expression.
He's made out of a fairly hard plastic, which feels different than the ones my Real Ghostbusters figures are made from. I was surprised by how many joints his arms have: universals for the shoulders, swivel biceps, and hinged elbows. He has hinged knees, but his hard plastic coattails ensure that they don't go very far. Also swivel thighs (no T-Crotch), and a turnable waist and head.
He came with his blister card, though was hardly MOC. I liked that I could have the card, too, since it's one of the few things that identifies it as the geeky Zentraedi we (meaning I) know and love.
His card art again tries for the cocked-eyebrow expression, but it sort of looks like he had a stroke. As usual, the art's much closer to the real character than the toy, but in this case the fact stands out a lot more. A male Zentraedi flagship is in the background above him. Randomly, I like the little pixellated green under the blister bubble.
Exedore is tagged for a ninety-nine cent discount from $5.99, and it makes me wonder what kind of a story is behind this little bugger.
The cardback has one of those clip-out profiles on it, which I'm leaving on. It reads:
"Breetai's Minister of Affairs. Exedore
is
the law. Advisor and confidant of Breetai, his physical deformity, by Zentraedi standards, causes him to be exempt from combat. Therefore, he has turned his energy into studying the history of Robotech and how it relates to the Zentraedi. It is this secret that drives him toward the humans and their prize SDF-1. The SDF-1 is, to Exedore, the key to the future."
Italics theirs. Hell yeah, he
is
the law.
Looking at this package back, I have to say I'm really surprised that the "Robotech squishies" line had so many figures, and especially so many girl figures--they made a Minmei action figure, forcyrinoutloud! Besides Exedore, they've got Dolza and a Robotech Master, three solid non-action guys whom I can't imagine having much appeal to eleven-year-old-boys.
Oddly, the
Prototype
Exedore, though only visible in this tiny monochrome image, seems a lot more like the cartoon model. I wish they hadn't changed it....
Well, this is all I'm ever going to get, so I am pleased at that. It's a pity that like all other mecha franchises, the merchandise is so focused on the 'bots; I'd love to see the SDF Macross characters remade using modern toy tech (since Robotech is floundering when it comes to new material, I'm not expecting any toys under their banner)--hell, I'll even take Exedore as The Sprout, since that's the design that's found more favour over in Japan.